The ANOVA Treatment Plan for:
Amyotrophic Lateral Sclerosis (ALS)
Amyotrophic Lateral Sclerosis (ALS) is caused by the progressive death of cerebral (upper) and spinal (lower) motor neurons. It is a complex disease which involves the activation of several cellular pathways in both neurons and glial cells (Figure 1). This results in a severe motor dysfunction muscles become atrophic due to the lack of nerve stimulation. Often, the origin of the disease is unknown. ALS is not a typical autoimmune disorder, since autoimmune and inflammatory abnormalities are not the cause of the disease, even though they influence its progression.

The therapeutic strategy used for treating ALS is aimed at protecting neurons from degeneration, and to stimulate cell regeneration. However, currently there is no drug treatment that can restore neural cells.

Stem Cell-based therapies may be the answer. A study by Mazzini et al. demonstrated that the procedure of ex vivo expansion of autologous Mesenchymal Stem Cells (MSCs) and of transplantation into the spinal cord of humans are safe and well tolerated by ALS patients. A more recent study, by the same group, however, confirmed that MSC transplantation into the spinal cord of ALS patients is not only safe, but might also serve as a treatment option for future cell-based clinical trials for the treatment of ALS (Figure 2).

Many current preclinical studies suggest that stem cell transplantation has the best effect when aimed towards protecting, rather than replacing or repairing the motor neurons of ALS patients.

Our experience shows that Stem Cell Secretome is a promising, novel strategy that appears to be more effective and safer than the cells themselves. It is the essence of stem cells, and combines neuroprotection and recovery of neuromotorial function. We offer this novel and highly advance stem cell-based therapy for treating patients with ALS. For more information, please feel free to contact us.
Looking at ALS on a cellular level:
Why do Stem Cells have a huge potential to help?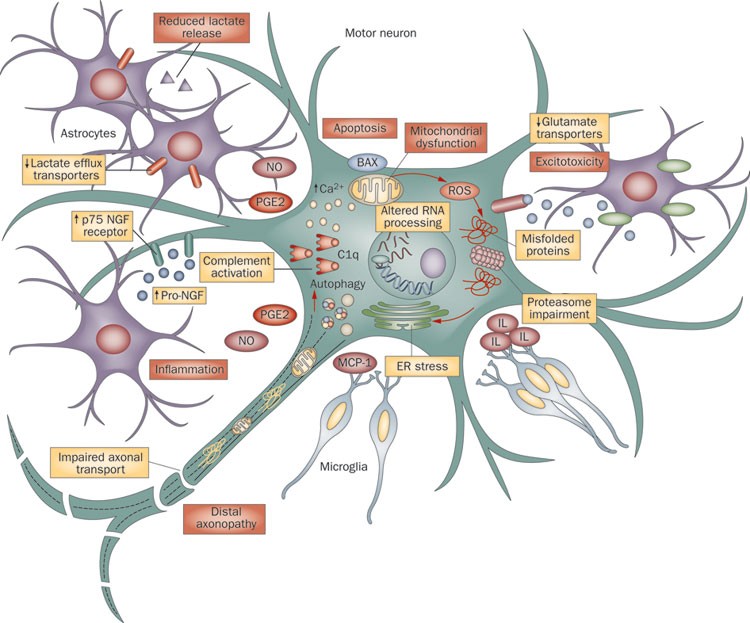 Figure 1: shows the complexity of ALS, which involves many different pathways in motor neurons and neighboring glia. Microglia (bottom part) activate an inflammatory cascade via MCP-1 secretion. Astrocytes (purple cells) contribute to the injury of motor neurons through various mechanisms, including release of inflammatory mediators such as NO and PGE2 (left), reduced expression and activity of the glutamate transporter (right), reduced lactate release (top left) and activation of pro-NGF–p75 receptor signaling (left). Motor neurons also undergo abnormal RNA processing which, together with overproduction of reactive oxygen species (ROS), contribute to protein misfolding (center). Misfolded proteins can form aggregates, leading to cellular stress and ultimately activate autophagy and apoptotic pathways. Two major components of motor neuron injury are mitochondrial impairment and dysregulation of calcium handling (top middle) which also stimulate the apoptotic cascade. Impaired axonal transport (left bottom) may contribute to an energy deficit, disturbing normal functionality (distal axonopathy). Abbreviations: EAAT2, excitatory amino acid transporter 2; ER, endoplasmic reticulum; IL, interleukin; MCP-1, monocyte chemoattractant protein 1; NGF, nerve growth factor; NO, nitric oxide; PGE2, prostaglandin E2.
The Stem Cell Secretome for Early-Stage Amyotrophic Lateral Sclerosis (ALS)
Several clinical trials with stem cells for ALS are ongoing. As usual during studies, new insights emerge. The ANOVA Stem Cell Secretome is the product of the latest insights to what actually causes the stem cell therapies to be effective. Stem Cell Secretome for ALS employs mesenchymal stem cells (MSC) secretome for a variety of reasons.
As explained in detail in our Information for Professionals section, MSCs secrete many trophic (e.g. SDF-1α, indoleamine-2,3-dioxygenase, prostaglandin E2, TGF-β1, HGF, IL-4, IL-6 and IL-10, SCF, LIF, FGF-2, VEGF, IL-6, VEGF, Neurotrophin-3 (NT3), SDF-1α, EGF and BDNF) and neuroprotective factors (e.g. NGF, GDNF and BDNF). Additionally, among the micro vesicles secreted from the MSC, are the very important exosomes transporting microRNAs (miR-29a, miR-9, miR-124, miR-145). It is known that the exposure of neurons and astrocytes with MSC secreted exosomes leads to an increase of miR-133b which was shown to promote functional neurological recovery.
The ANOVA Stem Cell Secretome is designed to harness these and many other factors in a high concentrate, produced in a certified cleanroom.