Stem Cell Therapy for Amyotrophic Lateral Sclerosis
at ANOVA IRM in Offenbach, Germany
Amyotrophic Lateral Sclerosis (ALS) is caused by the progressive death of cerebral (upper) and spinal (lower) motor neurons. It is a complex disease which involves the activation of several cellular pathways in both neurons and glial cells. This results in a severe motor dysfunction muscles become atrophic due to the lack of nerve stimulation. Often, the origin of the disease is unknown. ALS is not a typical autoimmune disorder, since autoimmune and inflammatory abnormalities are not the cause of the disease, even though they influence its progression.
Stem Cell-based therapies may be the answer. A study by Mazzini et al. demonstrated that the procedure of ex vivo expansion of autologous Mesenchymal Stem Cells (MSCs) and transplantation into the spinal cord of humans was safe and well tolerated by ALS patients. A more recent study, by the same group, however, confirmed that MSC transplantation into the spinal cord of ALS patients is not only safe, but might also serve as a treatment option for future cell-based clinical trials for the treatment of ALS.
Many current pre-clinical studies suggest that stem cell transplantation has the best effect when aimed towards protecting, rather than replacing or repairing the motor neurons of ALS patients. Our experience shows that Stem Cell Secretome is a promising, novel strategy that appears to be more effective and safer than the cells themselves. Stem Cell Secretome is the essence of stem cells, and can facilitate neuro-protection and recovery of neuro-motorial function. ANOVA offers this experimental and novel stem cell-based therapy patients with ALS. For more information, please feel free to contact us.
Amyotrophic Lateral Sclerosis
Diagnostics - Treatment - Medication - Stem Cell Therapies
On this page we inform you about ALS covering an overview on important aspects of causes, treatment options, precision diagnostics as well as our stem cell-based therapies that we offer in Offenbach (near Frankfurt am Main airport), Germany.
Jump directly to the following topics:
Conventional ALS Therapies vs. Stem Cell Therapy
The therapeutic strategy used for treating ALS is aimed at protecting neurons from degeneration, and to stimulate cell regeneration. However, currently there is no drug treatment that can restore neural cells.
Conventional Therapies are e.g.:
drugs to relieve painful muscle cramps
drugs inhibits excessive salivation production
heat or whirlpool therapy to reduce muscle cramping
Physiotherapy to retain as much muscle strength as possible
Physiotherapy to reduce muscle stiffness and cramps
Lymph drainage
Nutritional supplementation and healthy diets
Speech therapy
Recently, the US FDA approved Rilutek®. It is the first drug that has prolonged the survival of ALS patients. It failed, however, to stimulate regeneration or recovery from established damage.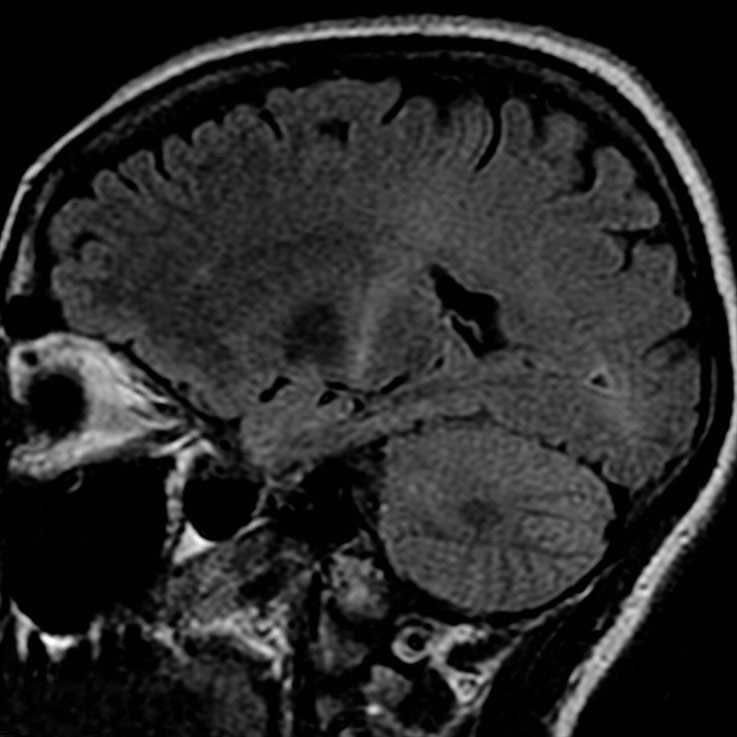 Stem cell research has allowed ANOVA, a German Stem Cell Clinic in the heart of Europe near Frankfurt/Main airport, to offer a novel treatment with a new therapeutical approach: The ANOVA Stem Cell Secretome is a cell free and promising treatment option for ALS.

Call us today, whether you wish to apply for a treatment, or simply receive more information.
Stem Cell Treatments for Early ALS at
ANOVA Institute for Regenerative Medicine - Offenbach, Germany
Secretome/Exosomes of MSC
Potency Hypothesis of Stem Cell Therapies
Stem cells possess the potential to communicate with the immune cells that elicit inflammation and by natural, so far not understood mechanisms may inhibit this immune-over-reaction. Furthermore, stem cells have the ability to stimulate regeneration of tissue thereby counteracting the loss of function.
MSEC - Mesenchymal Stem Cell Secretome - Exosomes - Autologous
As ALS is a chronic, so far not curable disease, we on-goingly treat patients with early to mid-stage ALS with MSEC (secretome, exosomes, EVs) of mesenchymal stem cells (MSC, AD-MSC, adipose-derived, fat-derived stem cells) which we harvest from the patients belly in a mini-liposuction (very brief and limited liposuction) under slight sedation. Worldwide, ANOVA is the first stem cell clinic to acquire legal permission form the responsible governmental authorities and therefore, offers high quality, safe and legally-controlled autologous (own) exosome-containing secretome.

The main advantage of MSEC is that in contrast to live stem cells which would loose their therapeutic potency, can be frozen without loss of exosomes. This enables us to produce 10-20 injection doses from one liposuction which can then be administered over a longer treatment period. This is especially advantageous for repeated stimulation of cell survival and regeneration in ALS. What a Secretome/Exosome is and how they compare is explained on our overview page.
Please note that this treatment is not a cure but as any stem cell treatment an experimental, potentially disease-modifying therapy. It requires regular and repeated travelling to Offenbach, Germany.
Contraindications
Our stem cell treatments are experimental, but we only treat patients for whom we believe the risk/benefit ratio indicates treatment based on the state of the art, i.e., medical, scientific evidence.
Please understand that we therefore do not treat patients for whom the following points apply:
Active cancer in the last two years
Not yet of legal age
Existing pregnancy or lactation period
Unable to breathe on own, ventilator
Difficulty breathing in supine position
Dysphagia (extreme difficulty swallowing)
Psychiatric disorder
Active infectious disease (hepatitis A, B, C, HIV, syphilis, or other)
Therapy Workflow for Early to mid-Stage ALS
The precise workflow is described in detail on the stem cell- specific pages of BMC, Secretome/Exosomes and PRP (as combination therapy).

All therapies are divided into phases such as evaluation of the medical history (we analyze your current therapies and medical records), initial counseling and evaluation of potential, patient-individual benefit of a stem cell therapy (indication statement), preliminary examinations, diagnostics, consultation on all therapy options, preparation of an individual treatment plan including cost estimate, harvesting of tissue, production of the stem cell product, quality control of the product and application.
Unfortunately, we only treat patients in an early to mid-stage of ALS. Patients have to breathe unassitedly and have to be fit for the sedation and brief intervention necessary to harvest fat tissue. And according to the risk-benefit ratio, we cannot treat children or pregnant women. In addition, other factors can also be exclusion criteria.
How Long Does a Stem Cell Therapy Take?
The initial analyses and counseling can be done without you having to travel to Offenbach (near Frankfurt/Main, Germany). This period can be 2 weeks up to months depending on the availability of patients slots. If you live further away, we will conduct the initial discussions by telephone or video conference. For the actual treatment, you will travel to Offenbach.
Secretome/Exosome-therapy:
Preparation and harvest of the fat (mini-liposuction) need once 2 days (consecutive days) in Offenbach, followed by enrichment of the mesenchymal stem cells (Secretome/Exosome) and quality control. Approximately 4 weeks after the isolation, the therapy begins according to the therapy plan determined with you. You will then come to Offenbach am Main (Germany) in regular intervals for the application. Depending on where you live and your traveling capacity and restrictions the treatment pattern is adjusted to your needs and abilities. The shelf life of the secretome (exosomes) is 2 years. As ALS is not curable with any treatment, we recommend a double-lipo which produces 20 doses for a continuous treatment over 2 years. Thereafter, a new liposuction has to be performed.
How much Does Stem Cell Treatment Cost?
Our treatments are always tailored to your specific situation, disease, stage and other factors. The therapies differ in the product used (BMC, secretome, PRP or hyaluronic acid), the frequency of treatment as well as the further examinations and your sedation and anesthesia wishes. A treatment for ALS will cost well above ten thousand euros. You will receive a cost estimate for all treatments in advance so that you can accurately estimate what a treatment would cost in your individual case.
Does my Health Insurance Cover the Therapy Costs?
Unfortunately, at the moment it is assumed that health insurance companies do not cover the costs of experimental therapies (BMC, secretome, PRP, micro-fracture technique), i.e. you will have to bear the costs entirely yourself.
Understanding ALS on a Cellular Level
This figure shows the complexity of ALS, which involves many different pathways in motor neurons and neighboring glia. Microglia (bottom part) activate an inflammatory cascade via MCP-1 secretion. Astrocytes (purple cells) contribute to the injury of motor neurons through various mechanisms, including release of inflammatory mediators such as NO and PGE2 (left), reduced expression and activity of the glutamate transporter (right), reduced lactate release (top left) and activation of pro-NGF–p75 receptor signaling (left). Motor neurons also undergo abnormal RNA processing which, together with overproduction of reactive oxygen species (ROS), contribute to protein mis-folding (center). Mis-folded proteins can form aggregates, leading to cellular stress and ultimately activate autophagy and apoptotic pathways. Two major components of motor neuron injury are mitochondrial impairment and dysregulation of calcium handling (top middle) which also stimulate the apoptotic cascade. Impaired axonal transport (left bottom) may contribute to an energy deficit, disturbing normal functionality (distal axonopathy). Abbreviations: EAAT2, excitatory amino acid transporter 2; ER, endoplasmic reticulum; IL, interleukin; MCP-1, monocyte chemo-attractant protein 1; NGF, nerve growth factor; NO, nitric oxide; PGE2, prostaglandin E2.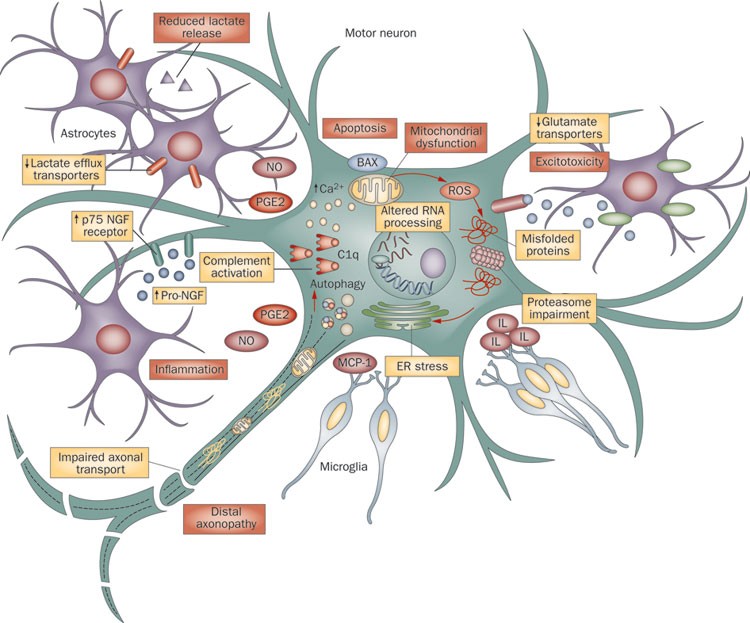 Stem Cell Secretome Therapy for ALS
Several clinical trials with stem cells for ALS are ongoing. As usual during studies, new insights emerge. The ANOVA Stem Cell Secretome is the product of the latest insights to what actually causes the stem cell therapies to be effective. Stem Cell Secretome for ALS employs mesenchymal stem cells (MSC) secretome for a variety of reasons.
As explained in detail in our Information for Professionals section, MSCs can secrete many trophic and neuro-protective factors. Additionally, among the micro vesicles secreted from the MSC, are the very important exosomes transporting microRNAs (miR-29a, miR-9, miR-124, miR-145). It is known that the exposure of neurons and astrocytes with MSC secreted exosomes leads to an increase of miR-133b which was shown to promote functional neurological recovery.
The ANOVA Stem Cell Secretome harnesses these and many other factors in a high concentration.
It is important to note that novel therapies such as stem cell-based therapies have not undergone the full clinical evaluation yet. Therefore, the attending physician must assess the risks and benefits associated with stem cell therapy for each patient individually. If the benefits outweigh the potential risks, the doctor may suggest experimental therapies to the patient.
References and Literature - Stem Cell-based Therapies for
Amythrophic Aateral Sclerosis-ALS
Wijesekera, Lokesh C., and P. Nigel Leigh. "Amyotrophic lateral sclerosis." Orphanet journal of rare diseases 4.1 (2009): 3.
Ferraiuolo, Laura, et al. "Molecular pathways of motor neuron injury in amyotrophic lateral sclerosis." Nature Reviews Neurology 7.11 (2011): 616-630.
Mazzini, Letizia, et al. "Stem cell therapy in amyotrophic lateral sclerosis: a methodological approach in humans." Amyotrophic Lateral Sclerosis and Other Motor Neuron Disorders 4.3 (2003): 158-161.
Mazzini, L., et al. "Mesenchymal stem cell transplantation in amyotrophic lateral sclerosis: A Phase I clinical trial." Experimental neurology 223.1 (2010): 229-237.
Papadeas, Sophia T., and Nicholas J. Maragakis. "Advances in stem cell research for Amyotrophic Lateral Sclerosis." Current opinion in Biotechnology 20.5 (2009): 545-551.
Janson, C. G., et al. "Human intrathecal transplantation of peripheral blood stem cells in amyotrophic lateral sclerosis." Journal of hematotherapy & stem cell research 10.6 (2001): 913-915.
Thomsen, Gretchen M., et al. "The past, present and future of stem cell clinical trials for ALS." Experimental neurology 262 (2014): 127-137
Staff, Nathan P., et al. "Safety of intrathecal autologous adipose-derived mesenchymal stromal cells in patients with ALS." Neurology 87.21 (2016): 2230-2234.
Oh, Ki-Wook, et al. "Phase I Trial of Repeated Intrathecal Autologous Bone Marrow Derived Mesenchymal Stromal Cells in Amyotrophic Lateral Sclerosis." Stem cells translational medicine 4.6 (2015): 590-597.
Petrou, Panayiota, et al. "Safety and clinical effects of mesenchymal stem cells secreting neurotrophic factor transplantation in patients with amyotrophic lateral sclerosis: results of phase 1/2 and 2a clinical trials." JAMA neurology 73.3 (2016): 337-344.
Farinazzo, Alessia, et al. "Murine adipose-derived mesenchymal stromal cell vesicles: in vitro clues for neuroprotective and neuroregenerative approaches." Cytotherapy 17.5 (2015): 571-578.
Bonafede, Roberta, et al. "Exosome derived from murine adipose-derived stromal cells: Neuroprotective effect on in vitro model of amyotrophic lateral sclerosis." Experimental cell research 340.1 (2016): 150-158.
Boruczkowski, D., et al. "Mesenchymal Stem Cells As A Therapeutic Option For Patients With ALS." Gen Med (Los Angel) 4.235 (2016): 2.
Literature and References HAL training for ALS treatment
Nakajima T, Sankai Y, Takata S, Kobayashi Y, Ando Y, Nakagawa M, Saito T, Saito K, Ishida C, Tamaoka A, Saotome T, Ikai T, Endo H, Ishii K, Morita M, Maeno T, Komai K, Ikeda T, Ishikawa Y, Maeshima S, Aoki M, Ito M, Mima T, Miura T, Matsuda J, Kawaguchi Y, Hayashi T, Shingu M, Kawamoto H. Orphanet J Rare Dis. 2021 Jul 7;16(1):304. PMID: 34233722 Free PMC article. Clinical Trial. https://doi/10.1186/s13023-021-01928-9. RESULTS: We conducted an open-label, randomised, controlled crossover trial to test HAL at nine hospitals between March 6, 2013 and August 8, 2014. ...Cybernic treatment with HAL resulted in a 10.066% significantly improved distance in 2MWT (95% confidence interval, …
Morioka H, Hirayama T, Sugisawa T, Murata K, Shibukawa M, Ebina J, Sawada M, Hanashiro S, Nagasawa J, Yanagihashi M, Uchi M, Kawabe K, Washizawa N, Ebihara S, Nakajima T, Kano O. J Clin Neurosci. 2022 Mar 10;99:158-163. Online ahead of print. PMID: 35279589 Free article. https://doi.org/10.1016/j.jocn.2022.02.032. We used HAL for patients with amyotrophic lateral sclerosis (ALS) to determine whether HAL training had an effect on their gait ability. ...The 10-meter walk test showed significantly improved cadence, although gait speed, step length on the 10-m walk, or ADL …
Sczesny-Kaiser M, Kowalewski R, Schildhauer TA, Aach M, Jansen O, Grasmücke D, Güttsches AK, Vorgerd M, Tegenthoff M. Front Neurosci. 2017 Aug 8;11:449. eCollection 2017. PMID: 28848377 Free PMC article. https://doi.org/10.3389/fnins.2017.00449. Recent studies have shown that the voluntary-driven exoskeleton HAL (hybrid assistive limb) can improve walking functions in spinal cord injury and stroke. The aim of this study was to assess safety and effects on walking function of HAL supported treadmill therapy …