Stem Cell Treatment for Stroke Patients
at ANOVA IRM in Offenbach, Germany
Stroke is the world leading cause of disability, while it is the third leading cause of death after cancer and heart disease. It comes without warning and causes catastrophic damage to the brain. With the most common type being acute ischemic stroke, thrombolysis is currently the only therapeutic option. Stem Cell Therapy might be the answer to patient's hopes of recovery.
Stroke
Diagnostics - Treatment - Medication - Stem Cell Therapies
On this page we inform you about stroke covering an overview on important aspects of causes, treatment options, precision diagnostics as well as our stem cell-based therapies that we offer in Offenbach (near Frankfurt am Main airport), Germany.
Jump directly to the following topics:
Conventional Stroke Therapies vs. Stem Cell Therapy
The cause of a stroke is the interruption of blood flow (ischemia) to the brain, which leads to a lack of oxygen and nutrients in the effected region of the brain, causing death of neurons and glia. The functional deficits result within minutes after the onset of stroke, with negative effects on motor, sensory or cognitive function, even loss of consciousness or death.

Recent advances in thrombolysis and in neuro-protective strategies have improved the management of acute stroke. When drugs are administered a few minutes after the injury, it is possible to restore the normal functions as long as the damage is still reversible. However, shortly after the onset of the stroke, brain cells are irreversibly damaged. When this happens, restoration of blood flow might even increase the damage. Many sub-critically damaged cells, which could potentially be saved, induce apoptosis (programmed cell death - "suicide") and are therefore also irreversibly lost.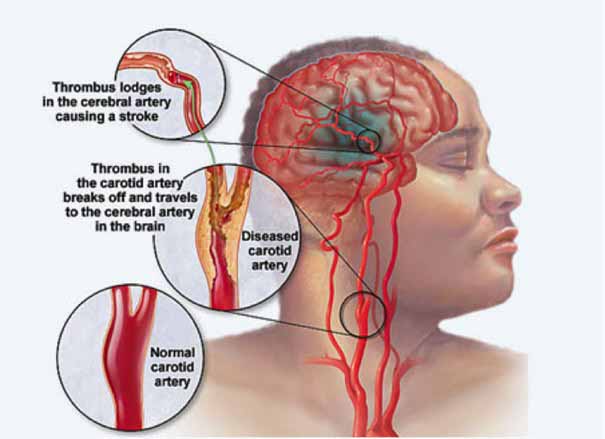 While conventional stroke therapies can at best limit damage to the brain, stem cell therapies work on a different level (angiogenic, neurotrophic, neuro-protective and anti-infammatory) and have shown great potential in the restoration of brain function. This results in a significant change of how stroke can be treated. Until recently, regeneration of the brain and spine (Central Nervous System - "CNS") has been considered impossible in adults.

However, injection of stem cells into the cerebrospinal fluid (the liquid surrounding the brain and spine which fills its internal spaces) in stroke patients, has significantly improved the functional recovery without serious side effects. Stroke patients who have received intravenous infusions of MSCs have experienced significant functional improvements with fewer neurological deficits and without adverse cell-related, serological or imaging defined effects.

Treatment with stem cells does not only offer a chance for a better and quicker recovery due to the effective neurological regeneration, but it also has the advantage that it can be used alongside all conventional treatment strategies; it has even been shown to synergize with them.

Stem cell research has allowed ANOVA, a German Stem Cell Clinic in the heart of Europe near Frankfurt/Main airport, to offer a novel treatment with a new therapeutical approach: The ANOVA Stem Cell Secretome is a cell free and promising treatment option for stroke.

Call us today, whether you wish to apply for a treatment, or simply receive more information.
Stem Cell Treatments for Stroke at
ANOVA Institute for Regenerative Medicine - Offenbach, Germany
BMC and Secretome/Exosomes
Potency Hypothesis of Stem Cell Therapies
Stem cells possess the potential to communicate with the immune cells that elicit the inflammation and by natural, so far not understood mechanisms may inhibit this immune-over-reaction. Furthermore, stem cells have the ability to stimulate regeneration of tissue thereby counteracting the loss of function. The aim of a stem cell treatment is therefore, the fast inhibition of inflammatory damage and induction of regeneration. In optimal cases this may result in faster and more complete recovery after stroke.
Two Targeted Effects: Pain Relief and Progression Improvement
A stem cell treatment can elicit two effects that build on one another. First, due to the modulation of the underlying immune reaction the stem cell injection inhibits the inflammation. As inflammation often is the main cause of ongoing damage, this may limit further loss of neurons.

Second, the effects on regeneration build on the inhibition of inflammation. The brain tissues return to a resting-phase and are now able to react to healing and regenerative stimuli. With adequate on-going stem cell therapy in combination with e.g. physiotherapy, regeneration of brain cells is stimulated. As all effects are patient- and disease stage-dependent and may be influenced by additional, external factors, we always apply individual treatment plans.
BMC - Bone Marrow Concentrate - Autologous
Autologous (self) BMC are our main therapy option for locally-restricted and mild conditions as BMC is a one bone marrow donation - one injection treatment.
In such cases we treat specifically this disc or this spinal segment with targeted, localized BMC injections. BMC contains autologous meaning patients own, adult stem cells (hematopoietic and mesenchymal stem cells in natural composition) which we isolate and concentrate from your pelvis crest in a short process under slight sedation.
These stem cells are supposed to inhibit the inflammation thereby relieving you from pain and to stimulate regeneration of the spinal segment. For an on-going therapy, we combine BMC with PRP (platelet-rich plasma) or MSEC (see below). More information about this type of stem cell therapy is summarized on our page an BMC.
MSEC - Mesenchymal Stem Cell Secretome - Exosomes - Autologous
In later stages or more wide-spread damage, we treat stroke patients with MSEC (Secretome, Exosomen, EVs) of mesenchymal stem cells (MSC, AD-MSC, adipose-derived, fat-derived stem cells) which we harvest from the patients belly in a mini-liposuction (very brief and limited liposuction) under slight sedation. Worldwide, ANOVA is the first stem cell clinic to acquire legal permission form the responsible governmental authorities and therefore, offers high quality, safe and legally-controlled autologous (own) exosome-containing secretome.

The main advantage of MSEC is that in contrast to live stem cells which would loose their therapeutic potency, can be frozen without loss of exosomes. This enables us to produce 10-20 injection doses from one liposuction which can then be administered over a longer treatment period. This is especially advantageous for repeated stimulation of regeneration after stroke. What a Secretome/Exosome is and how they compare is explained on our overview page.
Combination Treatment for Fast and Repeated Treatment
As after stroke the fast treatment is advisable to modulate inflammatory processes and a repeated treatment is recommended for on-going stimulation of regeneration, both treatment types are often combined with BMC for fast treatment and MSEC for continuous treatment over 2-3 months.
Therapy Workflow for Stroke
The precise workflow is described in detail on the stem cell- specific pages of BMC, Secretome/Exosomes and PRP (as combination therapy).

All therapies are divided into phases such as evaluation of the medical history (we analyze your current therapies and medical records), initial counseling and evaluation of potential, patient-individual benefit of a stem cell therapy (indication statement), preliminary examinations, diagnostics, consultation on all therapy options, preparation of an individual treatment plan including cost estimate, harvesting of tissue, production of the stem cell product, quality control of the product and application.
Unfortunately, according to the risk-benefit ratio, we cannot treat children or pregnant women. In addition, other factors can also be exclusion criteria.
How Long Does a Stem Cell Therapy Take?
The initial analyses and counseling can be done without you having to travel to Offenbach (near Frankfurt/Main, Germany). This period can be 2 weeks up to months depending on the availability of patients slots. If you live further away, we will conduct the initial discussions by telephone or video conference. For the actual treatment, you will travel to Offenbach. Then, depending on the therapy, the tissue collection, quality control and treatment type it will take as follows:
BMC- and PRP-Therapy
Each donation and application of BMC on-site period: 2 days (consecutive days).
Secretome/Exosome-Therapy:
Preparation and harvest of the fat (mini-liposuction) need once 2 days (consecutive days) in Offenbach, followed by enrichment of the mesenchymal stem cells (Secretome/Exosome) and quality control. Approximately 4 weeks after the isolation, the therapy begins according to the therapy plan determined with you. You will then come to Offenbach am Main (Germany) several times for the application. The shelf life of the secretome (exosomes) is 2 years.
How Much Does Stem Cell Treatment Cost?
Our treatments are always tailored to your specific situation, disease, stage and other factors. The therapies differ in the product used (BMC, secretome, PRP or hyaluronic acid), the frequency of treatment as well as the further examinations and your sedation and anesthesia wishes. A treatment for stroke can cost from a few thousand to several thousand euros. You will receive a cost estimate for all treatments in advance so that you can accurately estimate what a treatment would cost in your individual case.
Does my Health Insurance Cover the Therapy Costs?
Unfortunately, at the moment it is assumed that health insurance companies do not cover the costs of experimental therapies (BMC, secretome, PRP, micro-fracture technique), i.e. you will have to bear the costs entirely yourself.
Are you Interested but Uncertain?
Do you Want a Second Medical Opinion?
Book a Counselling Appointment!
We also offer a service for a second opinion on your current medical records (MRI, CT, X-ray) and treatment advice. Our patient care managers are happy to inform you about what information we need upfront, how to transfer large data files and schedule a counseling appointment with our physicians for you. Please use our contact form to support a fast processing of your case and request.
You are also always welcome to send us an e-mail about your case. The counseling appointment may also take place per telephone or video chat if you live outside Germany. For more intense counseling or additional diagnostic evaluations you may also book an on-site appointment. We can perform needed MRI on the same day. All services rendered by our patient care team are free of charge and we inform you about all physician appointment charges up-front.
FAQ: Stem Cell Therapy for Stroke Patients
At What Time is a Stem Cell Therapy Most Efficient to Fully Recover From a Stroke?
The simple answer is, the earlier the better. However, scientists and medical professionals have not defined an endpoint for beneficial application. Beneficial effects can be experienced years after the stroke ocurred, but the mechanism of action could be entirely different. For example: applying stem cell therapies at a later time could potentially only induce neuro-trophic effects, while a sooner application could initiate the full range of benefical effects that stem cells have (anti-inflamation, apoptotic protection, immuno-modulation, neurotrophic). Scientific results are still inconclusive with regards to this question.
What Stem Cell Source Does ANOVA Recommend for Optimal Recovery Results After a Stroke, and how are They Administered?
This cannot be answered in a simple way, because many parameters play a role in treatment success. There are many medical aspects to be considered, as well as personal and financial aspects.
We offer personalized treatments only, which means that we evaluate each patient and each case individually and assess the risks and benefits of each treatment or treatment combination before we suggest a treatment plan.

For more information please contact us, and send all relevant medical information to give us a chance to discuss your case in our medical board meeting. For urgent (acute) cases of stroke, we will hold emergency meetings with reaction times of 24h or less.
How Many Applications of Stem Cells Does it Require to Reach the Optimal Outcome?
To date there the carried out clinical trials only offer insufficient data to answer this question. However, extrapolating from what is known about stem cells (so far) and their underlying biological mechanisms, frequent injections (initially 1-3 per month) for at least a year or two years, appears to be a good initial guess for an effective treatment. This can easily be adapted to the observed progress or biomarkers. Neurogenesis processes are always slow, even with stem cells.
I'm Currently Undergoing Treatment "XY" – Would the Stem Cell Therapy Interfere? Should I Stop Taking Medications?
No! Do not stop taking any medication prescribed by your physician before we are able to do a full assessment and provide clear advise on the matter. In some cases, stroke medications can interfere with the necessary liposuction and / or bone marrow harvesting step. This needs to be carefully assessed by our medical professionals beforehand. With regards to the the stem cell treatment itself, none of the stroke medications have been shown to have negative interferences, as the two work on an entirely different levels.
I Want the Treatment but I can not / don't Want to fly to the ANOVA Institute in Frankfurt. Can I get the Cells via Postal Service?
No, this is not possible, due to regulatory reasons we offer our services in our clinic only. The harvest of Mesenchymal Stem Cells (MSCs) from fat as well as the application of Stem Cell Secretome, are performed strictly in our clinic by the same doctor.
Can you Guarantee Treatment Success?
Therapeutic success cannot be guaranteed with any type of treatment. Particularly in the case of experimental therapies such as stem cell-based therapies, the attending physician will perform a benefit-to-risk analysis for each individual patient and case and determine both the benefits and the risks. If the potential benefits outweigh the potential adverse events, the doctor may recommend experimental therapy.
References and Literature - Stem Cell-based Therapies and Osteoarthritis
Kasahara, Yukiko, Tomohiro Matsuyama, and Akihiko Taguchi. "Treatment of Autologous Bone Marrow Mononuclear Cells for Acute and Subacute Stroke." Cell Therapy for Brain Injury. Springer International Publishing, 2015. 37-46.
Sun, Jinmei, et al. "Intranasal delivery of hypoxia-preconditioned bone marrow-derived mesenchymal stem cells enhanced regenerative effects after intracerebral hemorrhagic stroke in mice." Experimental neurology 272 (2015): 78-87.
Lindvall O, Kokaia Z: Stem cells for the treatment of neurological disorders. Nature 2006, 441(7097):1094-1096.
Rabinovich SS, Seledtsov VI, Banul NV, Poveshchenko OV, Senyukov VV, Astrakov SV, Samarin DM, Taraban VY: Cell therapy of brain stroke. Bull Exp Biol Med 2005, 139(1):126-128.
Bang OY, Lee JS, Lee PH, Lee G: Autologous mesenchymal stem cell transplantation in stroke patients. Ann Neurol 2005, 57(6):874-882.
Chen, Jieli, Poornima Venkat, and Michael Chopp. "Bone Marrow Mesenchymal Stromal Cell Transplantation: A Neurorestorative Therapy for Stroke." Cellular Therapy for Stroke and CNS Injuries. Springer International Publishing, 2015. 47-69.
Anderson, Johnathon D., et al. "Mesenchymal stem cell-based therapy for ischemic stroke." Chinese Neurosurgical Journal 2.1 (2016): 36.
Lee, Ji Yong, et al. "Microvesicles from brain-extract—treated mesenchymal stem cells improve neurological functions in a rat model of ischemic stroke." Scientific Reports 6 (2016).