Stem Cell-based Therapies for Lyme Disease
at ANOVA IRM in Offenbach, Germany
Lyme Disease (LD) can potentially affect everyone, since it is transmitted by ticks which live in our temperate latitudes. It is a disease with many faces and can be associated with various symptoms, making the disease difficult to diagnose. In most cases, as soon as the disease is detected, a therapy with antibiotics is enough to cure the symptoms without residual impairments. But in some cases, especially if LD is diagnosed in progressive stages or in case of a chronic LD, an antibiotic therapy is insufficient and leaves the patient in pain or paresis.

An encouraging approach in treating LD are Stem Cell-based therapies, especially for patients who do not benefit from an antibiotic treatment. New studies have shown a significant improvement of the outcome in patients treated with Stem Cell-based therapies for Lyme Disease.
On this page we inform you about Lyme Disease covering an overview on important aspects of causes and symptoms, treatment options, precision diagnostics that reveals the cause of joint pain as well as our stem cell-based therapies that we offer in Offenbach (near Frankfurt/Main) Germany.
Jump directly to the following topics:
Contraindications
Our stem cell treatments are experimental, but we only treat patients for whom we believe the risk/benefit ratio indicates treatment based on the state of the art, i.e., medical, scientific evidence.
Please understand that we therefore do not treat patients for whom the following points apply:
Active cancer in the last two years
Not yet of legal age
Existing pregnancy or lactation period
Unable to breathe on own, ventilator
Difficulty breathing in supine position
Dysphagia (extreme difficulty swallowing)
Psychiatric disorder
Active infectious disease (hepatitis A, B, C, HIV, syphilis, or other)
What is the Cause of Lyme Disease?
Lyme Disease (LD) or Borreliosis is a disease which can affect many different organs and systems, which makes treatment planning very difficult. It is caused by the bacteria Borrelia burgdorferi, which is transmitted by ticks. However, not all people bitten by an infected tick will get the disease. In most cases the infection is sub-clinical and without, or only with local symptoms. Yet in cases the infection gets disseminated, there is a large range of symptoms a patient may suffer from.
What is Lyme Disease?
LD - PTLDS - Meningitis - Symptoms - Medication
The disease proceeds in three stages. In stage I, which occurs in days to weeks after a bite, 50% of patients notice an itching, a red circle around the bite, the Erythema migrans. In many patients this is the only symptom of the infection and there will not be more manifestations. Sometimes this skin condition is accompanied by fatigue, lymph adenosis, headache, joint pain and fever.
Stage II is the early onset dissemination stage, which occurs weeks to months after the bite. Many patients cannot remember to be bitten by tick or suffering from an erythema, thus sometimes patients notice the infection only in stage II. Stage II comes with different symptoms in different systems. 3-12% of patients with Lyme Borreliosis suffer from an acute neuroborreliosis with Bannwarth-syndrome, which is characterized by severe radicular pain and paresis. Neuroborreliosis may also result in a lymphocyte meningism. Another organ which may be affected by Borreliosis is the heart. This so called Lyme-carditis comes with thoracic pain, dyspnoea and arrythmias.
Stage III is the late disseminated infection and occurs months to years after the bite. The patients suffer from Lyme-arthritis with pain and arthritis in large joints, often in the knees. Also, the neuroborreliosis may occur as a chronic form with progressive encephalitis and impairment of walking, cognition and bladder function.
Lyme disease is a disease with many faces, since it can include none of the mentioned symptoms, only some, or even all of them. Additionally, the outcome of the disease varies from a sub-clinical course, over no remaining symptoms, to significant remaining impairment after the infection. These various faces make the diagnosis and the treatment of Lyme Disease very difficult.
The major type of treatment is using antibiotics, in severe cases or late cases paralleled by neuroborreliosis applied intravenously.
Stem Cell Treatments for Lyme Disease at
ANOVA Institute for Regenerative Medicine - Offenbach, Germany
BMC and Secretome/Exosomes
Potency Hypothesis of Stem Cell Therapies
Stem cells possess the potential to communicate with the immune cells that elicit the inflammation and by natural, so far not understood mechanisms may inhibit this immune-over-reaction. Furthermore, stem cells have the ability to stimulate regeneration of tissue. The aim of a stem cell treatment is therefore, the fast relief of pain, the slowing of the disease progression and in the best cases to even support tissue regeneration. This can dramatically increase the quality of life, especially for patients with severe pain.
MSEC - Mesenchymal Stem Cell Secretome - Exosomes - Autologous
Patients with chronic inflammatory symptoms such as in LD are usually treated with MSEC (secretome, exosomes, EVs) of mesenchymal stem cells (MSC, AD-MSC, adipose-derived, fat-derived stem cells) which we harvest from the patients belly in a mini-liposuction (very brief and limited liposuction) under slight sedation. Worldwide, ANOVA is the first stem cell clinic to acquire legal permission form the responsible governmental authorities and therefore, offers high quality, safe and legally-controlled autologous (own) exosome-containing secretome.

The main advantage of MSEC is that in contrast to live stem cells, which would loose their therapeutic potency, can be frozen without loss of exosomes. This enables us to produce 10-20 injection doses from one liposuction which can then be administered over a longer treatment period. This is especially advantageous for serious cases of Lyme Disease. What a Secretome/Exosome is and how they compare is explained on our overview page.
BMC - Bone Marrow Concentrate - Autologous
Autologous (self) BMC are the second stem cell therapy that we use for treatment of Lyme Disease. However, BMC is a one-injection per bone marrow donation treatment.
BMC contains autologous meaning patients own, adult stem cells (hematopoietic and mesenchymal stem cells in natural composition) which we isolate and concentrate from your pelvis crest in a short process under slight sedation.
These stem cells are supposed to inhibit the inflammation thereby relieving you from pain and to stimulate regeneration. For an on-going therapy, BMC treatments can be repeated or combined with MSEC treatment.
More information about this type of stem cell therapy is summarized on our page an BMC.
Therapy Workflow for Lyme Disease
The precise workflow is described in detail on the stem cell- specific pages of BMC (most often used for LD) and Secretome/Exosomes.

All therapies are divided into phases such as evaluation of the medical history (we analyze your current therapies and medical records), initial counselling and evaluation of potential, patient-individual benefit of a stem cell therapy (indication statement), preliminary examinations, diagnostics, consultation on all therapy options, preparation of an individual treatment plan including cost estimate, harvesting of tissue, production of the stem cell product, quality control of the product and application. There are two special features for osteoarthritis and arthritis patients. If your previous findings have not found the specific causes of your joint pain, we will examine you in advance with a precise and informative arthro-MRI or an MRI with non-radioactive contrast medium, if you wish. In addition, we often apply the stem cells (BMC) intra-articularly (i.e., directly in the joint). This means that we deliver the stem cells to the exact location where your pain originates.
Unfortunately, according to the risk-benefit ratio, we cannot treat children or pregnant women. In addition, other factors can also be exclusion criteria.
How Long Does a Stem Cell Therapy Take?
The initial analyses and counselling can be done without you having to travel to Offenbach (near Frankfurt/Main, Germany). This period can be 2 weeks up to months depending on the availability of patients slots. If you live further away, we will conduct the initial discussions by telephone or video conference. For the actual treatment, you will travel to Offenbach. Then, depending on the therapy, the tissue collection, quality control and treatment type it will take as follows:
BMC-Therapy
Each donation and application of BMC on-site period: 2 days (consecutive days).
Secretome/Exosome-Therapy:
Preparation and harvest of the fat (mini-liposuction) need once 2 days (consecutive days) in Offenbach, followed by enrichment of the mesenchymal stem cells (secretome/exosomes) and quality control. Approximately 4 weeks after the isolation, the therapy begins according to the therapy plan determined with you. You will then come to Offenbach am Main (Germany) several times for the application. The shelf life of the secretome (exosomes) is 2 years.
How Much Does Stem Cell Treatment Cost?
Our treatments are always tailored to your specific situation, disease, stage and other factors. The therapies differ in the product used (BMC, secretome, PRP or hyaluronic acid), the frequency of treatment as well as the further examinations and your sedation and anesthesia wishes. A treatment for osteoarthritis and arthritis can cost from a few thousand to several thousand euros. You will receive a cost estimate for all treatments in advance so that you can accurately estimate what a treatment would cost in your individual case.
Does my Health Insurance Cover the Therapy Costs?
Unfortunately, at the moment it is assumed that health insurance companies do not cover the costs of experimental therapies (BMC, secretome, PRP, micro-fracture technique), i.e. you will have to bear the costs entirely yourself.
How Does the ANOVA Therapy Differ?
Diagnostics – We Look for the Cause of your Pain
Prof. Dr. Dr. Dr. M. K. Stehling, the founder of ANOVA IRM and the Vitus Prostate Center , is a radiologist (MD) and holds a PhD in physics. For this reason, the ANOVA Institute for Regenerative Medicine, in cooperation with the Prof. Stehling Institute for Diagnostic Imaging located in the same building, has the capability to use special precision diagnostics such as arthro-MRI and non-radioactive contrast MRIs.
Compared to many conventional MRIs, these methods are often able to localize the pain-causing inflammation in your joints. This enables us to determine individually how patients should be treated and where the stem cells should be applied.
Furthermore, in consultation with you, we supplement our patient-specific diagnostics with specific blood tests on hormones, inflammation parameters and other factors that are important in your case, or recommend further examinations such as a preventive MRI spinal scan.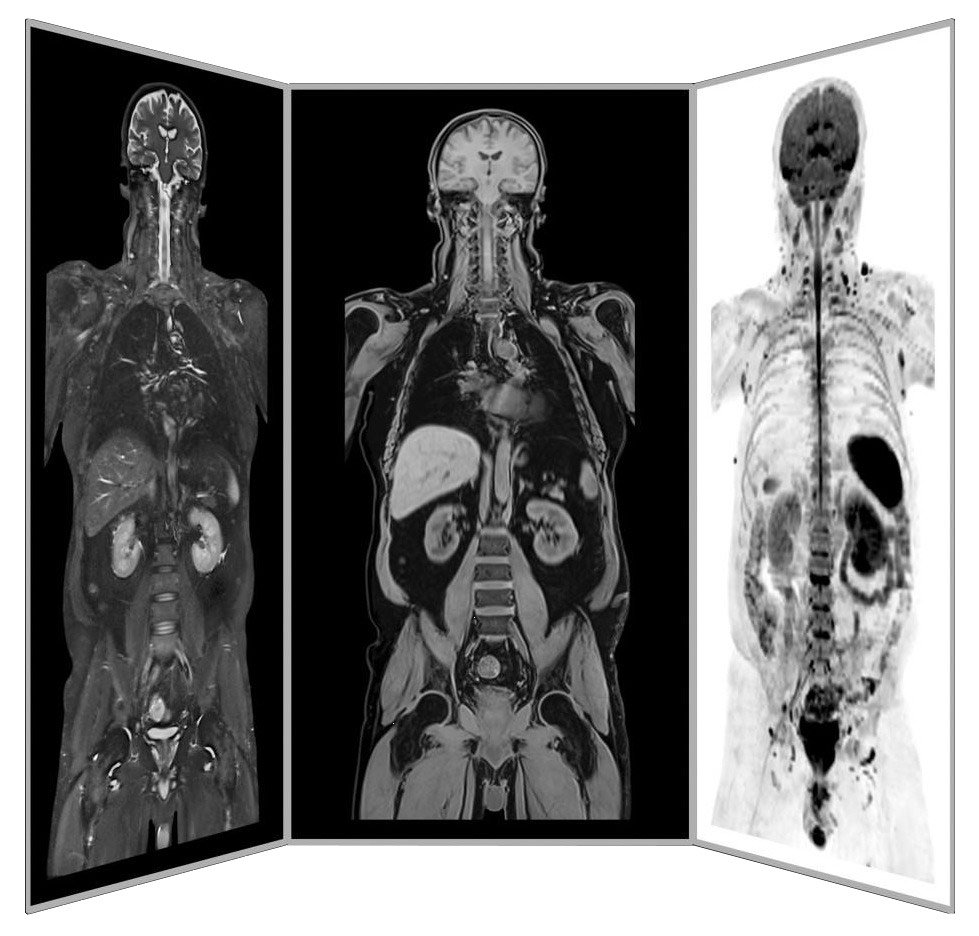 How Stem Cells Can Help Treating Lyme Disease
Recent studies have shown a significant improvement for LD patients treated with Stem Cell-based therapies. While an antibiotic therapy is mostly successful in early stages of the acute form, this treatment is often insufficient in chronic LD, leaving the patients with impairments or pain. In those studies people with chronic LD regained their balance, appetite and strength and reduced tremor and other neurological symptoms.
Since LD is an inflammatory process, Stem Cell-based therapies can help to reduce the effect on the body, resulting in reduced symptoms and a better treatment outcome, especially when combined with other treatment options.
Treating Lyme Disease with MSC Secretome - Exosomes
Since LD is a disease with many faces and various symptoms, no patient is like the other. Therefore, no treatment should be like the other. At ANOVA, a German clinic for regenerative medicine, we evaluate the medical history of every patient and develop the therapeutic strategy that is best suited for the patient's specific symptoms and manifestations.
ANOVA combines state-of-the-art technology with evidence-based effective therapies to treat every patient with a fitting treatment for the most effective outcome. This approach is one of a kind in Europe.

Stem Cell Secretome has anti-inflammatory properties that can help manage LD symptoms and facilitate the healing process of your body. Here you can read more about Stem Cell Secretome.

It should be noted that novel and/or experimental therapies, such as stem cell-based therapy, have not undergone the full clinical evaluation yet. Therefore, the attending physician is obliged to analyze the risks and benefits associated with stem cell therapy for each individual patient and case. If the benefits outweigh the potential risks, the doctor may suggest experimental therapies to the patient. Find out if you are suitable for stem cell therapy by contacting us today.
FAQ: Stem Cell-based Therapies for Lyme Disease
What are the Causes of Lyme Disease?
Lyme Disease is a disease caused by the bacterium Borrelia burgdorferi. The bacteria are transmitted by ticks (Ixodes) endemic in temperate latitudes of the northern hemisphere. The risk of tick bites is increased during the warm months of March to October. It is important to note that not all people bitten by an infected tick will develop the disease. But still it is important to watch out for the first symptoms of an infection to get early treatment.

Since the bacteria are in the gut of the tick, the risk of an infection increases with the time the tick is attached to the skin. An early removal of the tick is a good prevention of getting LD.

Since there is no vaccination against Borrelia burgdorferi yet, the best prevention is to avoid bites and to remove ticks as soon as possible.
What are the Symptoms of Lyme Disease?
As mentioned above, LD comes with various manifestations, depending on the stage. Keeping in mind that every patient is different and the range is wide, it is also important to note that it's possible to suffer from none of those symptoms to all of them. There are also some symptoms that are rare, but potentially possible, such as hepatitis or conjunctivitis. Nevertheless, there are characteristic symptoms for every stage.
Stage I:
Erythema migrans (most specific)
Headache
Fatigue
Fever
Lymphadenosis
Stage II:
Acute neuroborreliosis

Headache
Facial paresis
Paresis of limbs
Radicular pain, especially during the night

Lyme-Carditis

Arrythmia
Dyspnoea
Thoracic pain
Stage III:
Lyme-Arthritis

Joint pain
Swollen joints
Fatigue

Acrodermatitis chronica atrophicans

Progressive erythema on limbs, especially the lower legs

Chronic neuroborrelioses

Progressive encephalitis
Impairment of bladder function, cognition and walking None of these symptoms is proof of Lyme Disease.
If there is a suspicion on an infection with Borrelia Burgdorferi, a precise diagnostic is urgently needed.
How is Lyme Disease Diagnosed?
Important in diagnosing LD is the evaluation of the medical history, to determine if a tick bite occurred. But even if there is no such incident known, it does not mean it is not LD. Often patients do not remember the bite or did not notice it. If the physicians have the suspicion because of the combination of symptoms, a blood test (sometimes cerebrospinal fluid is also needed) will be performed. The body produces antibodies against Borrelia burgdorferi, which can be detected in the patient's blood or cerebrospinal fluid. The combination of specific symptoms, no other explanation for the symptoms and a positive antibody-reaction will confirm the diagnosis.
What Other Treatments are Available?
As soon as the diagnosis is confirmed, a therapy with antibiotics is started. Which antibiotic is used depends on the stage and the symptoms of the patient.
Often, the medication will stop the infection and the symptoms will disappear. But sometimes, especially with acute or chronical neuroborreliosis, residuals as paresis are possible and are a large impairment of the patient's quality of life.
In early stages of LD, the antibiotic therapy will cure the disease without residuals in most cases. But especially in advanced stages the risk of therapy-refractory courses increases.
References and Literature