Stem Cells and Neurodegenerative Diseases – the Clinical Perspective
Neurodegenerative diseases like Parkinson's disease (PD), Alzheimer's disease (AD), Multiple Sclerosis (MS) or amyotrophic lateral sclerosis (ALS) have little to no known cure. In most cases, the therapeutic options are reduced to treating symptoms.

Stem cell therapy has an entirely different approach as it has the potential to target the underlying mechanisms of neurodegeneration. Neurodegenerative disorders are coupled with autoimmune defects of some sort, usually causing accumulations of (sub)-cellular level waste materials. These disrupt the natural intra and/or extra cell regeneration cycles in turn. Stem cells can intervene at all levels of this process.

Many different stem cell sources and approaches have been employed clinically. The prevailing source has been autologous mesenchymal stem cells (MSCs). Bone marrow and fatty tissue convince as sources for MSCs due to their availability, robustness and especially because they were found to be safe in terms of induction of neoplasms.

There is extensive research about MSCs as a therapeutic tool against neurodegenerative diseases such as Alzheimer's disease (AD), Parkinson's disease (PD), multiple sclerosis (MS), amyotrophic lateral sclerosis (ALS) and Huntington's disease (HD). Two major aspect in context of their neurodegenerative abilities are of interest: their ability to transdifferentiate into neural cells under specific conditions and their neuroprotective and immunomodulatory properties. The latter is the so called paracrine effect resulting from the intrinsic environmentally responsive nature of MSCs.
Stem Cells and Neurodegenerative Diseases - the Biological Perspective
Paracrine effects have shown to be the dominant factor in neuroprotective and neuroregenerative abilities of stem cells. The effects are mediated mainly by (neuro-) trophic factors in form of cytokines, chemokines and enzymes especially in shape of extracellular vesicles like microvesicles and exosomes. This is known as the stem cell secretome (SCS).

Therefore, brain repair may be achieved (hypothetically) using the biologics secreted by mesenchymal stem cells (MSCs) alone without injecting any stem cells. This insight has dominated biological research of stem cell therapies. Whilst clinical studies for neurodegenerative diseases using stem cells still mainly imply simply injecting stem cells, the sole injecting has only little meaning in fundamental and pharmacological stem cell reseach anymore.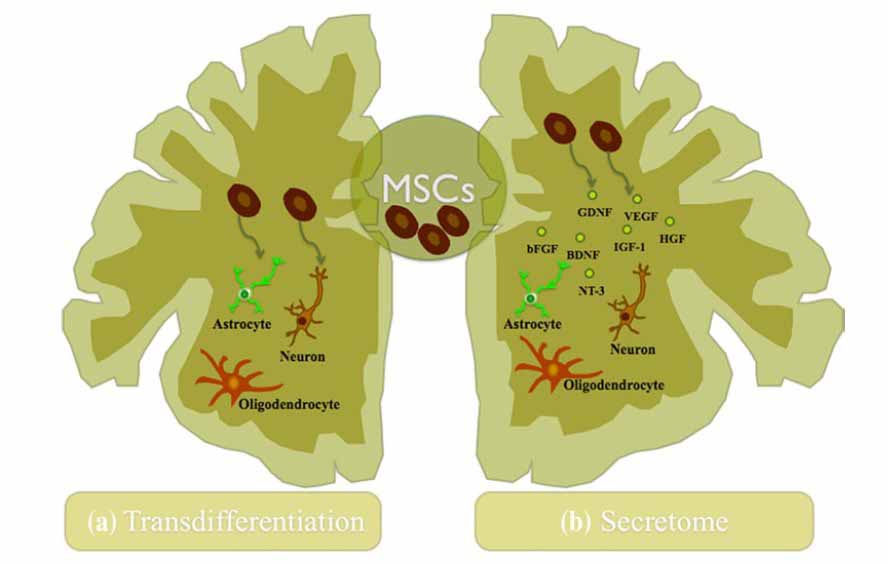 Figure 1: Mechanisms of action of MSCs in the CNS. (a) The trans-differentiation capacity of MSCs into neuronal and glial lineages both in vitro and in vivo was described as the probable explanation for their beneficial outcome after transplantation into the CNS, although this concept remains still unclear. (b) Nowadays, the trophic action of MSCs has been increasingly accepted as a new concept of regeneration of the CNS. These cells secretion of growth and neurotrophic factors has been described as an assistant in the nervous tissue regeneration through the activation/modulation of endogenous processes like the promotion of neurogenesis, angiogenesis, and immunomodulation. In this way, they contribute to the neuroprotection and regeneration of the CNS [8].
The Secretome of Stem Cells and Its Effect against Neurodegeneration: Extracellular Vesicles and Soluble Factors Initiating Healing and Immune Modulation
As shown in this introduction, the stem cell secretome (SCS) of mesenchymal stem cells consists of hundreds of immune, inflammatory and paracrine factors. For several reasons, the secretome and especially the paracrine extracellular vesicles could be (part of) the solution for many neurodegenerative diseases:
It is the essence of what stem cell therapies from the past were able to achieve in terms of positive clinical outcomes
Now for the first time the dose can be regulated and optimized to yield a lasting response
Since the extraction methods can be designed with high efficacy, larger quantities can be produced
These extraction methods allow good repeatability without new required fat / bone marrow tissue
Latest research shows, that the neurogenic niche appears to be a key research target. MSC secretome has been shown to regulate the neurogenic niche towards promoting neurogenesis
It shows that natural factors that were involved in the formation and development of the brain and motor functions in embryonic state are not unlikely to be contained in the inter-cell communication cytokines and therefore answer to auto-immune and/or neurodegenerative diseases
The stem cells can be designed and changed by altering either genes or simply the conditions of stress during extraction process
Extracellular vesicles can easily cross the blood brain barrier (BBB), regardless of injection site (intranasal, intrathekal or intravenous injections)
Stem cells` factors appear to have positive impact only: anti-inflammation, neurotrophic, neuroprotective, immune modulatory effects etc. (excepted might be Alzheimer`s disease where exosomes can both clear and favor amyloid beta plaques)
Accumulating studies demonstrated that exosomes initiated and regulated neuroinflammation, modified neurogenic niches and neurogenesis
None of the risks involved with injecting (cultivated) MSCs
Allogenic use and even off the shelf use thinkable (long term, currently only under point of care, see "our code" below)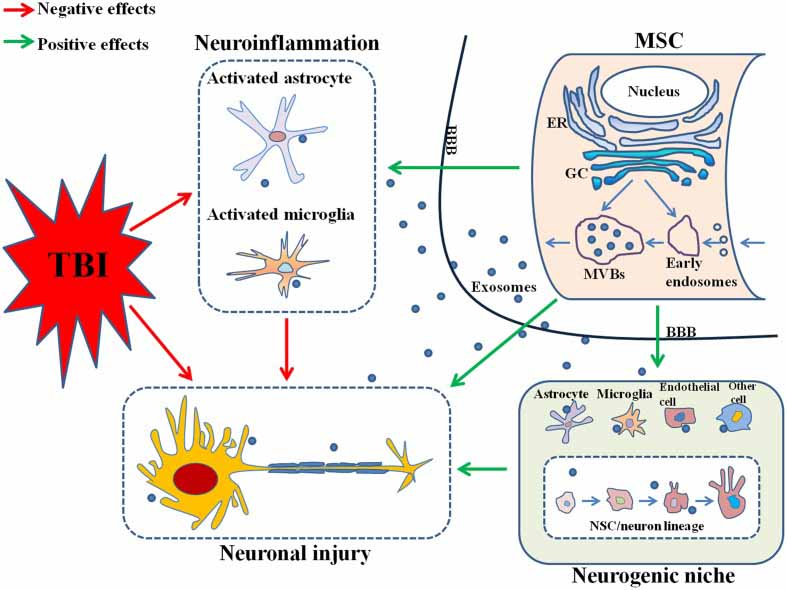 Figure 2: MSC, mesenchymal stem cell; TBI, traumatic brain injury; ER, endoplasmic reticulum; GC, Golgi complex; MVBs, multivesicular bodies; BBB, brain-blood barrier; NSC, neural stem cell [4].