Stem Cells – a Disruptive "Technology" Changing Medical Practice and Thinking
Stem cell research has become an enormous area of research with an exponentially increasing number of original research publications and clinical trials. However, as usual, it takes at least a decade until the latest insights from bio-science are introduced to medical practice. As is the case with stem cell therapies. While the current hot topic of mesenchymal stem cells (MSCs) has shifted towards the question how stem cells actually interact with the surrounding (paracrine/soluble factors, trophic factors, extracellular vesicles, microvesicles, exosomes etc.), clinical research has just started with rather crude MSC injection protocols. In clinical practice, though being used at some specialized sites, MSC therapies have not even found broad acceptance in diseases where their safety/efficacy profile is both proven and superior (or even the only known potential therapy). Researchers and progressive thinking medical professionals being frustrated with the slow adaption and evolution of medicine, hence started calling for translational medicine taking a more important place in society. The ANOVA Institute for Regenerative Medicine is dedicated to just that: A fully equipped medical institution with an own GMP grade lab – dedicated to translational, regenerative cellular medicine. Respecting guideline procedures but not ignoring latest results from stem cell research or other related research fields.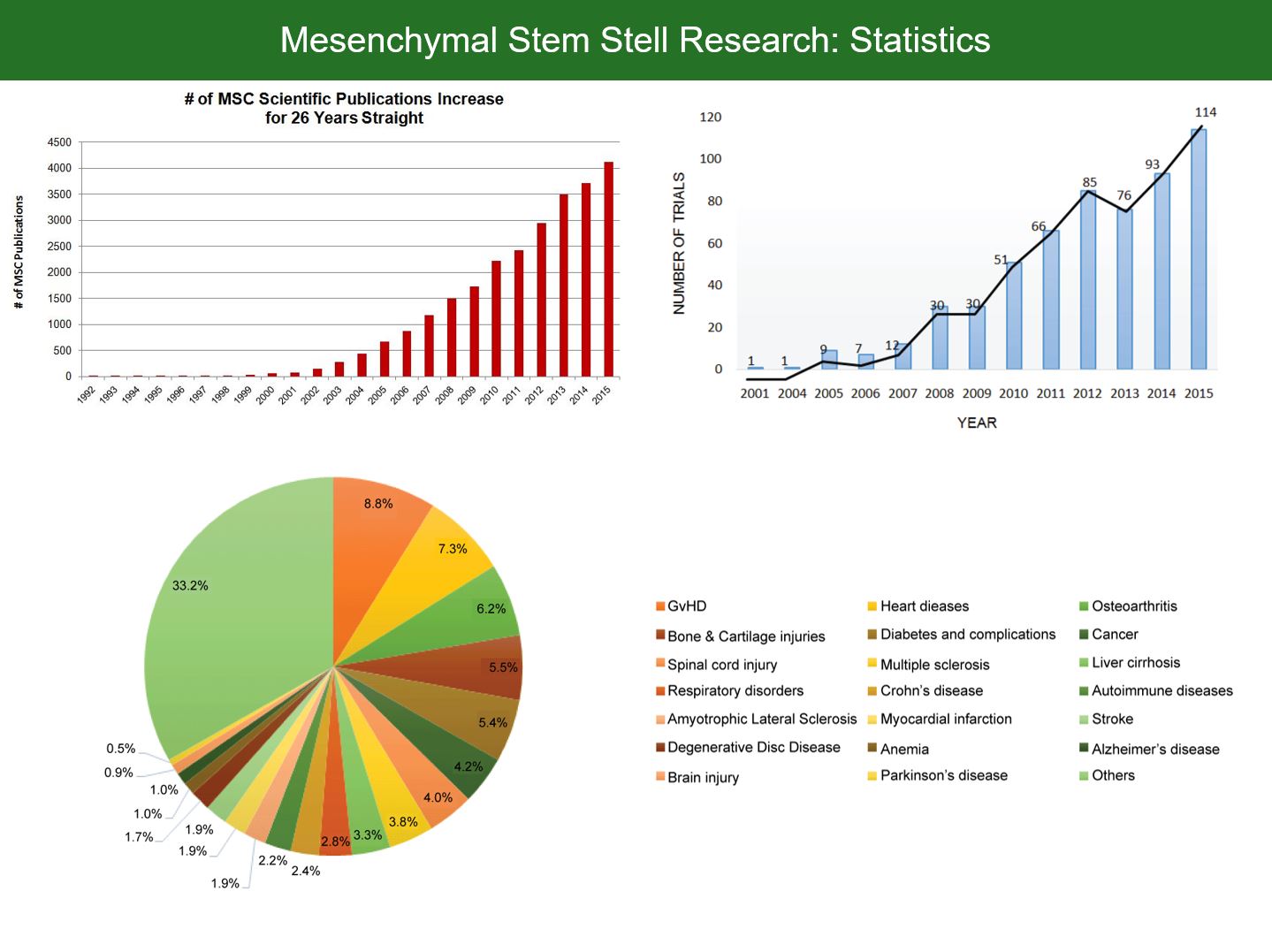 Next Generation Stem Cell Therapy: Why We Do Not "Just Inject Stem Cells" Anymore
ANOVA has been actively using stem cell therapies since 2010. The gap between what was possible in clinical practice and what was known from research was large. Due to a lack of data, regulations and available products, therapies consisted mostly of image guided injections of bone marrow concentrate (BMC) into different compartments with slightly individualized protocols. The results were often astonishing, but the crudeness of this approach was unsatisfying. With increasing knowledge on the pathways stem cells use to make their effects came a paradigm shift of what is possible in clinical practice today. The evolution is best summarized by Zhang et al. in their 2016 review about extracellular vesicles (EVs):

"The intense research focus on stem and progenitor cells could be attributed to their differentiation potential to generate new cells to replace diseased or lost cells in many highly intractable degenerative diseases, such as Alzheimer`s disease, multiple sclerosis, and heart diseases.

However, experimental and clinical studies have increasingly attributed the therapeutic efficacy of these cells to their secretion. While stem and progenitor cells secreted many therapeutic molecules, none of these molecules singly or in combination could recapitulate the functional effects of stem cell transplantations.

Recently, it was reported that extracellular vesicles (EVs) could recapitulate the therapeutic effects of stem cell transplantation. Based on the observations reported thus far, the prevailing hypothesis is that stem cell EVs exert their therapeutic effects by transferring biologically active molecules such as proteins, lipids, mRNA, and microRNA from the stem cells to injured or diseased cells. In this respect, stem cell EVs are similar to EVs from other cell types. They are both primarily vehicles for intercellular communication. Therefore, the differentiating factor is likely due to the composition of their cargo. The cargo of EVs from different cell types are known to include a common set of proteins and also proteins that reflect the cell source of the EVs and the physiological or pathological state of the cell source."

The paracrine activities of stem and progenitor cells are now being extensively explored and mapped. Their major involvement in all essential effects of stem cell therapies (immunomodulation, proliferation, anti-inflammatory, anti-fibrotic, anti-apoptotic, angiogenic, mitogenic, neurotrophic, neuroprotective, chemoattraction) have been shown.

This hence has brought many clinical stem cell groups, us among them, to refocus towards designing new methods with the soluble factors in focus - not the stem cell count. The Stem Cell Secretome Therapy uses MSCs and exposes them to specific stress preconditioning with several proprietary methods to force MSCs to mass produce a secretome with maximum efficacy for the different disease models.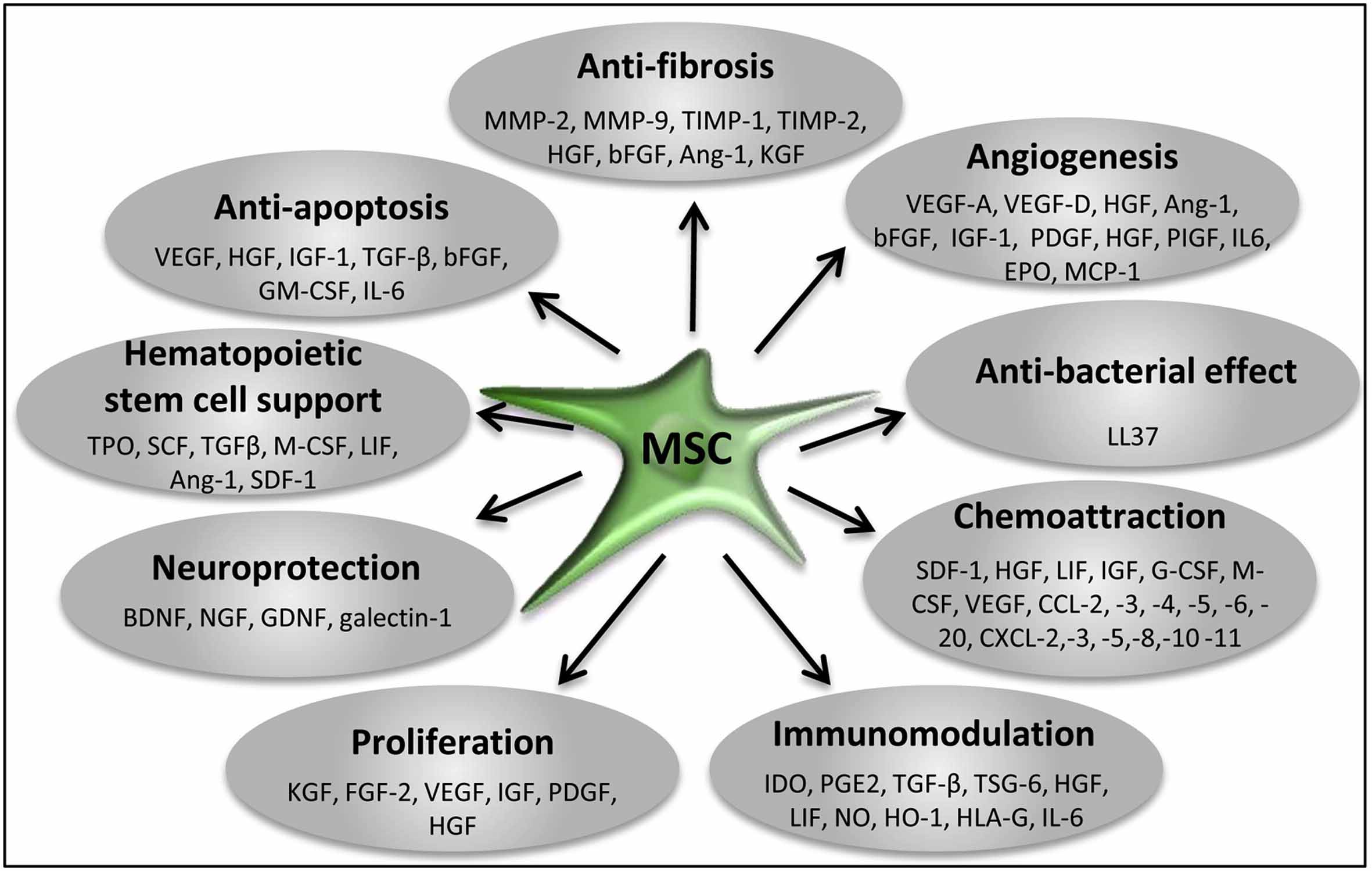 Trophic Factors and Exosome/MV Loads Produced by MSCs and Suggested Functions for Tissue Regeneration/Repair
Angiopoietin: induce angiogenesis, promote cell survival
BDNF: promote neuronal cell survival and differentiation, reduce infarct size
BMPs: regulate tissue homeostasis, promote neurogenesis, induce stromal cell proliferation and migration, promote angiogenesis
CNTF: promote neuronal cell survival
EGF: induce cell proliferation and differentiation
EPO: induce angiogenesis, inhibit apoptosis
FGFs: induce angiogenesis, inhibit apoptosis
Galectins: suppress inflammation, induce stem cell mobilization, inhibit immune cell proliferation
GDNF: promote neuronal cell survival, induce axonal growth, reduce infarct size
G-CSF: induce stem/progenitor cell proliferation, promote neuronal differentiation
HGF: promote progenitor cell mobilization, induce angiogenesis and cell proliferation, inhibit immune cell proliferation
Hemoxygenase-1: promote induction for regulatory T cells
IGFs: induce cell proliferation, inhibit apoptosis
IL-6: stimulate stem/progenitor cell proliferation, induce angiogenesis
IDO: induce regulatory T cells, inhibit T cell activation
IL-1β: suppress inflammation
KGF: induce cell proliferation
MCP-1: induce angiogenesis, induce MSC migration, inhibit apoptosis
MIF: inhibit macrophage migration
NGF: protect neural cells
PDGF: induce cell proliferation
PGE2: suppress inflammation, inhibit immune cell proliferation
SCF: induce stem/progenitor cell proliferation, promote neuronal differentiation
SDF-1: regulate progenitor cell mobilization
TGF-β: induce stem cell differentiation, reduce inflammation/immune activation
TSG-6: suppress immune activation
VEGFs: induce angiogenesis, promote progenitor cell mobilization, inhibit apoptosis




Source: Zhang et al. 2017
The Stem Cell Secretome: The Essence of Mesenchymal Stem Cell Therapies in a Designed Process
As described, we evolved to design a stem cell secretome using mesenchymal stem cells for our injection therapies. The stem cell secretome begins with adipose tissue derived stem cells being expanded using GMP materials and methods only. Once expended to a suitable amount of vital non-senescent MSCs, a proprietary conditioning process is employed to use the MSCs as small factories to produce massive amounts of their secretome. The amount of secretion is estimated 100-10.000x higher than the same amount of stem cells would secrete when injected. After GMP grade quality controls, this conditioned media is now ready for local or systemic injections. Despite the obvious potency advantage, this brings several further advantages:
Higher potency by several orders of magnitude
Hence excellent repeatability of the treatment as a high amount of injection can be produced from one micro liposuction
Extremely high safety because all major risk factors of MSCs are eliminated:

local immune responses that can lead long-term rejection of transplanted MSCs
disruption of local tissue homeostasis causing inflammation
increased risk of tumor formation due to long-term ex vivo expansion and/or local immunosuppression
ectopic tissue formation of donor

Adaptability of the secretome profile to the requirements