Stem Cells for Back Pain, Spine and Cervical Conditions:
New Cellular Treatment Possibilities for Back Pain Conditions.
Back pain and spinal conditions are usually treated by invasive methods, such as spinal and back operations (surgeries), as well as with medications and injections that target the painful symptoms.

Both operations and pain relief medications seldom satisfy the patient, as shown by medical statistics. This is quite natural, as none of these options offer any real solution to the root of the problem. While all common treatments can deliver improvements or are sometimes even necessary, it all depends on the origin and the severity of the pain. Is a surgical procedure necessary? And if yes, what can patients expect as an outcome?

In general, before the decision for getting an operation for back pain relief is considered, all other methods should be carefully evaluated. An exception to this rule is when there is an immediate need for a surgical intervention, in cases with entire loss of control in the leg(s) or inner organ(s). However, back pain operations are not at all a 100% guarantee that one will fully recover and live a pain-free life – quite often the opposite result happens.
The ANOVA Stem Cell Treatment for Back Pain:
The first Therapy designed to tackle the problem at it's root.
In animal models of disc degeneration, MSCs have shown to restore normal disc structure. Since disc degeneration seems to depend on alterations of nucleus pulposus (NP) cells, Strassburg and colleagues have investigated the interactions between MSCs and degenerated NP cells, in greater detail.

Similar to other degenerative diseases where Stem Cell Therapies have been proven to be successful (i.e. neurodegenerative diseases), they found that the two cell types primarily communicate via an extensive direct transfer of membrane components and extracellular vesicles, which is known as the Stem Cell Secretome.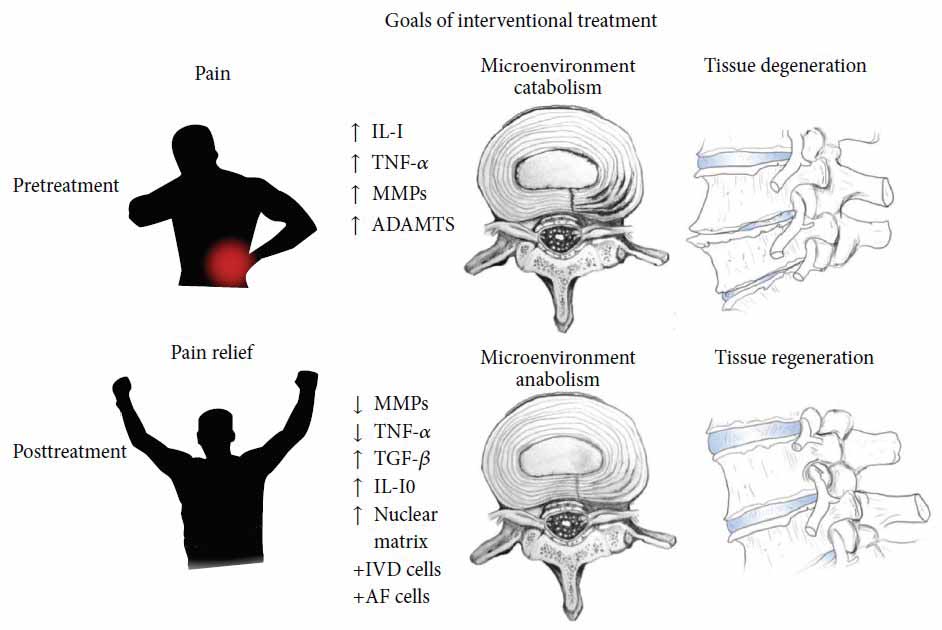 Schematic illustration of discogenic degenerative diseases of the disc – one of the most frequent sources of back pain.

Stem cells offer long lasting effects by improving the problems at the root, where the catabolic microenvironment causes bad disc quality, due to minimal cell proliferation. Stem cells offer solutions to this problem with their intrinsic inter-cellular communication factors, the so called paracrine factors, also known as the Stem Cell Secretome. The The ANOVA Stem Cell Secretome therapy is designed to harness and concentrate these factors for efficacy and safety.

ANOVA Institute for Regenerative Medicine has moved long past a one-fits-all Stem Cell Therapy. Different cell therapies have been proven to be efficient for different back pain and spinal conditions, syndromes and degenerations. All of these, namingly Bone Marrow Concentrate (BMC), Mesenchymal Stem Cells (MSC), Platelet Rich Plasma (PRP) and tissue transplants grown from stem cells have shown to induce regenerative effects for different knee pathologies.

ANOVA offers these treatments in a personalized treatment plan, based on your current health status.

With this unique approach, ANOVA establishes a superior cellular regenerative treatment for back pain and spinal conditions. Unmatched quality worldwide and developed by a team of reputable German Professors and Medical Professionals in a dedicated private German institute.

If you are interested to apply for a stem cell-based treatment for back pain, of wish to know more information, please feel free to contacts us. We are here for you.