ANOVA IRM - Stammzelltherapien aus Offenbach-
Patienten-Rückmeldungen
Phoebes Fortschritte: Die rührende Geschichte einer MS-Patientin
Erfahren Sie mehr über Phoebe, eine unserer Patientinnen mit sekundärer progressiver Multipler Sklerose. In diesem Video erklärt Sie mit eigenen Worten ihre Erfahrungen mit der ANOVA IRM. Möchten Sie mehr über Phoebe und ihren Umgang mit MS erfahren? Bitte besuchen Sie ihre Website unter www.phoebescopes.com.
Alina G.
Alina ist selbst Arzt und war zur Behandlung ihrer Knieverletzung bei uns. Lesen Sie hier ihren selbstgeschriebenen Erfahrungsbericht (englisch).
"Fast augenblicklich wurde der entzündliche Schmerz stark gelindert. Ein paar Wochen später spürte ich bereits eine starke Steigerung der Beweglichkeit und nahm den Sport wieder nach und nach auf. Nach 6 Monaten hatte ich den Meniskusriss fast vergessen."
My name is Alina and I'm a 36 year old medical doctor in my professional life. But more important to me is my love for activities on the sea and in the mountains.

As outdoor sports bring high strain and high risk, I feel lucky that I was able to avoid a knee injury until my thirties. But then a relatively severe meniscal tear brought my hobbies to a full stop. Every hobby athlete knows the feeling of depression, when suddenly all that is left is work.

All orthopedic doctors were unanimous that a partial meniscectomy (an operation that removes a part of the meniscus) is my best option to get well. But as a medical professional myself, I knew about the potential risks and outcomes. Additionally, my husband had the same operation performed on both of his knees. It is not a fast recovery, things are not going to be the same and an early onset cartilage damage and chronic inflammation under stress is likely.

I have heard from good results from PRP and/or bone marrow stem cell injections, but most clinics offering them were abroad and didn't seem very professional. I was lucky enough to have received the recommendation to contact Prof. Stehling and the Anova clinic by peers. I got the probably best and most extensive MRI images and consultation I have ever had done there. Prof. Stehling explained me all the current scientific data and I made the decision to give stem cells a try before considering the operative procedure.

The stem cell treatment was done the next day and I was home be noon. What happened from then on was quite remarkable. Almost immediately the inflammatory pain was ameliorated greatly. A few weeks later I felt already a big increase in the agility and I carefully picked up on doing sport again. After 6 months I almost forgot about the meniscal tear.

All in all, giving stem cell treatments a try before doing an operation I consider to be the best decision I ever made for my body and my future as a passionate athlete. A million thanks to the great team of Anova IRM!

Alina G.
The following Magnetic Resonance Images are from Alina. The upper level shows the "before" state. A follow-up MRI a year later showed something remarkable. Not only was the torn meniscus "flat", as would be the normal ideal outcome of conservative therapy, but it could barely be found on the MRI anymore. This is very astonishing, because meniscal tears normally don't "heal" in adults, only in rare cases when the patient is young, the tear is near the capsule and is stitched with several weeks of complete immobilization.
MRT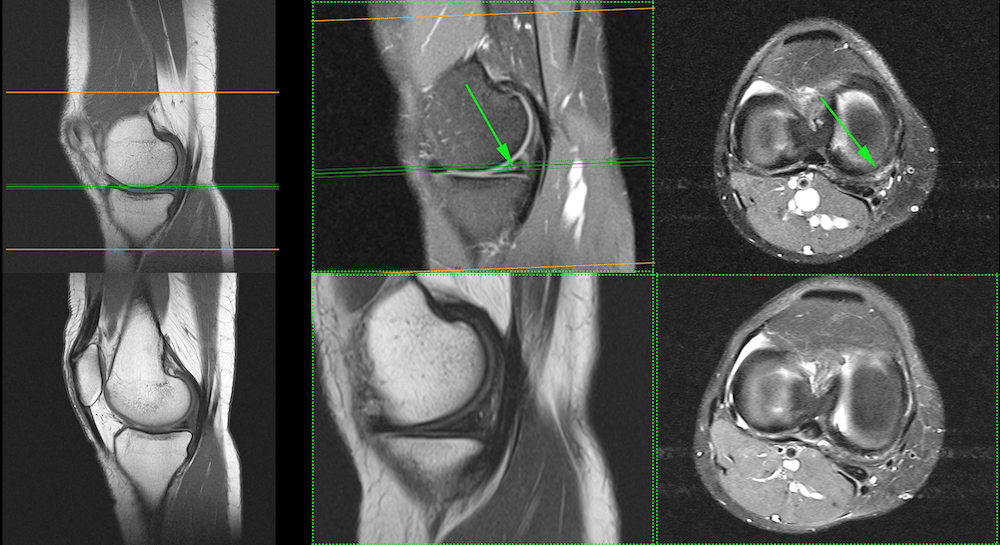 E.R.G.
E.R.G. ist Hobby-Leistungssportler seit Kindesalter. Seinen ersten Bandscheibenvorfall hatte er bereits mit 25 Jahren. Lesen Sie hier seinen Erfahrungsbericht, den er selbst verfasst hat (englisch).
"Prof. Stehling entwarf einen individuellen Behandlungsplan, der die Zeit der Liposuktion einige Wochen vor der Rückenoperation festlegte. Meine erste Injektion bekam ich eine Woche nach der Operation. Die Erholung von da an war phänomenal."
I've been a sport enthusiast since I was a kid. I've actively pursued gymnastics, long distance running, winter sports and sport climbing on competition level. This took a toll on my body. My first herniated disc I had diagnosed with 25.
For another 7 years I handled this herniated disk with conservative therapy, meaning back-specific exercises every day and occasionally pain medication, but mostly stepping back on the back intense sports, in my case running and gymnastics.
Still, the condition worsened. At some point I couldn't move one leg anymore and found myself on morphine pain killers to make it to work.
An operation was inevitable. But I heard that whilst the operation will bring immediate pain relief, often these results don't last. I was scared it would not get better on the long run. The thought of going back to this condition and having to even quit climbing made me panic. I wanted to try everything possible to maximize my chances to get back to a physically perfectly fit state.
I read research results on Stem Cell therapies for degenerative diseases. I instantly knew that I wanted to combine my recovery with a continuous stem cell treatment. By far the most advanced and scientifically sound reply I got was from the Anova Institute for Regenerative Medicine team, Prof. Stehling to be more specific.
The approach to mass extract the paracrine factors (Stem Cell Secretome, Exosomes) from your stem cells in a laboratory environment makes much more sense than a single injection with Bone Marrow concentrate or even potentially dangerous approaches using cultivated MSCs in an unverified process in countries like Thailand, Russia or China.
Prof. Stehling designed an individualized approach which scheduled the time the liposuction a few weeks before the back operation. My first injection I got a week after the operation. The recovery from there on was phenomenal. Days later I was back to work, a few weeks later I was back doing everything I love and haven't had a problem since. More so, even my knees and ankles, which never really bothered me but were somewhat chronically itching, feel like I'm in my twenties again. Even a decade old injury which left me a stiffened finger capsule healed entirely - which is astonishing to say the least.
In addition to the therapy, the doctor gave me several great advises based on current research results, like occasional fasting mimicking diets and senescent cell clearing with readily available substances. I am aware that aging will continue but currently it does not feel like it :-)

Not medically relevant but I really enjoy the annual visits with the Anova team: The team is super nice and funny and, more often than not, you meet a celebrity there.
In any way, I am forever grateful to the awesome team of Anova for their incredible stem cell therapy and the individualized treatment plan they designed for me and thereby made my life so much better!

E.R.G.