Bone Marrow Concentrate (BMC): Regenerate Yourself from Within
Stem cell therapies are currently revolutionizing medicine, as they are being used for organ regeneration, i.e. the reconstitution of damaged tissues for orthopedic issues and in other tissues such as heart muscle. Bone Marrow Concentrate (BMC) is an innovative and minimally invasive approach to improve your orthopedic wellbeing. Learn more about Bone Marrow Concentrate and about your personalized treatment options at ANOVA.
What is Bone Marrow, and how can it help me?
Bone marrow can be found in the central region of your bones and is a soft spongy tissue which produces your red bloods cells, white blood cells and blood plasma components. Stem cells can be found in this tissue, as they play a key role in the production of these cell components.
Stem cells are known to help advance healing processes and regeneration in tissue, and can be employed in moderate to severe osteoarthritis, tendon injuries and other orthopedic problems.
What can be Treated with BMC?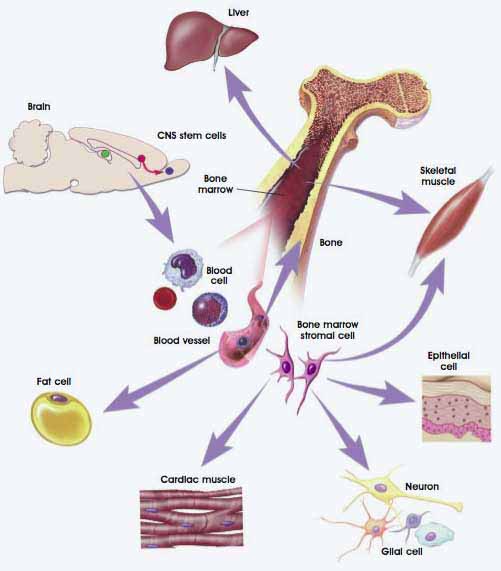 Osteoarthritis
Knee - Meniscus Tears (medial and lateral), Chondromalacia Patella, Tendon Injuries (Patellar Tendonitis, Quad Tendon), Ligament sprains or tears (MCL, LCL, ACL)
Hip - Hip Labrum Tears, SI Joint Dysfunction, Piriformis Syndrome, Greater Trochanteric Bursitis, Iliotibial Band (ITB) Syndrome
Shoulder - Rotator Cuff Tendinitis, Tendonopathy, or Partial Tears, Labrum Tear, Bicipital Tendinitis
Elbow - Lateral Epicondylitis (Tennis Elbow), Medial Epicondylitis (Golfers Elbow)
Hand or Wrist Pain - DeQuervain's Tenosynovitis
Ankle & Foot Pain - Achilles Tendinitis or Partial Tears, Plantar Fasciitis, Ankle sprains or ligament injury
Spine - Facet Joint Arthropathy. Sacroiliac (SI) Joint Dysfunction
Figure 1: Plasticity Among Adult Stem Cells. (© 2001 Terese Winslow, Lydia Kibiuk, Caitlin Duckwall)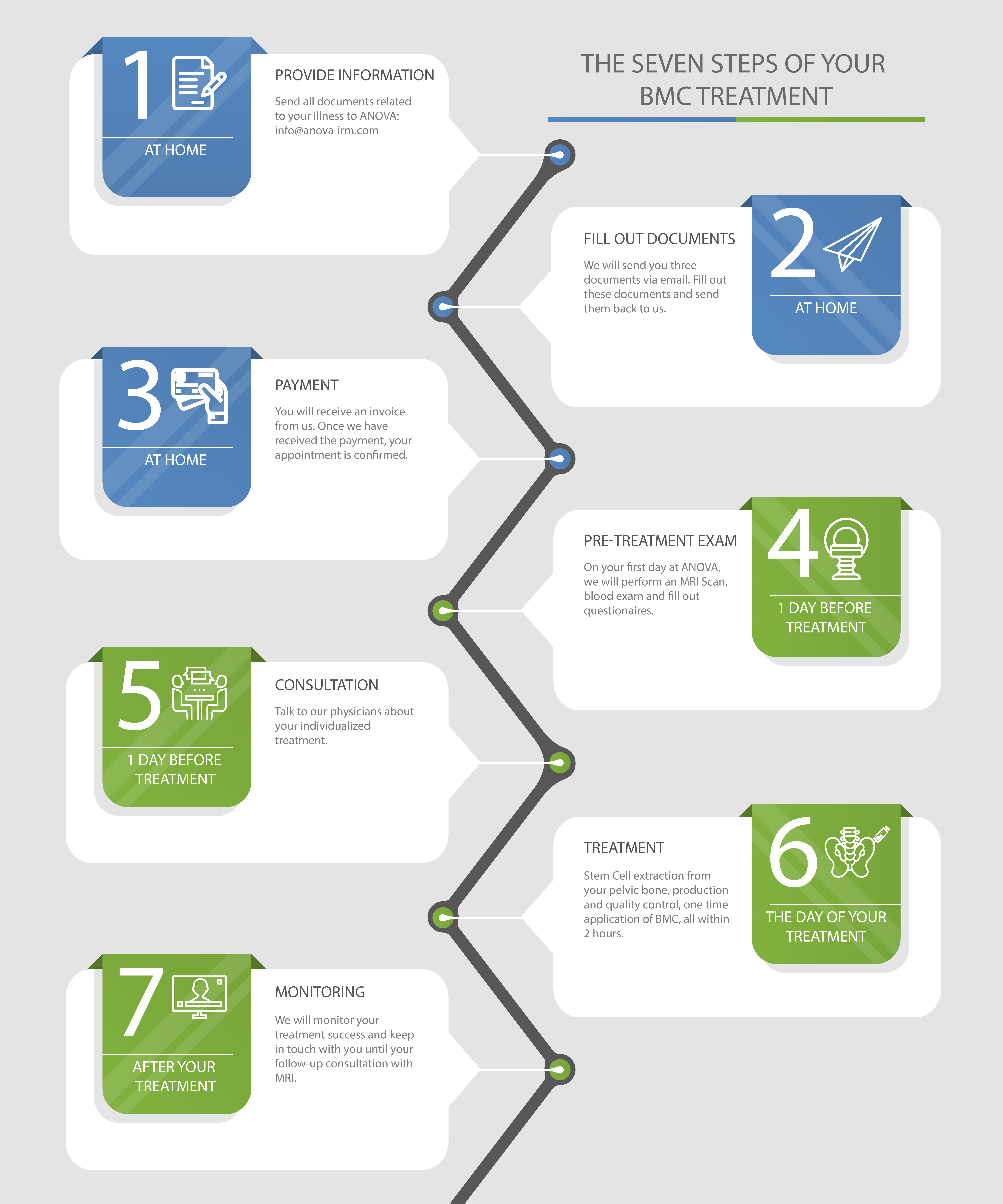 How BMC Therapy works
Bone Marrow Concentrate (BMC) has the ability to utilize the body's own ability to regenerate and heal itself through the containing growth factors and regenerative cells. BMC contains pluripotent cells, which means that they are able to turn themselves into various different types of tissue.

While some types of stem cells have failed to show healing effects in conditions such as stroke and heart diseases, bone marrow stem cells have been proven to be effective for a number of other applications. The data is available at the prestigious Cochrane Library, the international authority for evidence-based medicine.

Interestingly, the previously ignored blood cells of the bone marrow appear to play a pivotal role in many healing processes. They contain high numbers of cells with CD34+ and c-kit surface markers, without which stem cells are ineffective in repairing and regenerating damaged tissues and organs.


The story of BMC Therapy
Early research in stem cells has focused on investigating the regenerative capabilities of embryonic or adult Mesenchymal Stem Cells. While they instill scientists and doctors hope for the treatment of many diseases, these cells cannot be used for treating patients in most countries, due to legal restrictions and safety concerns.

Therefore, doctors and scientists began searching for alternatives to employ this cutting edge approach. Bone marrow stem cells are an obvious alternative. They are abundant, relatively easy to access and both the harvest as well as the application has minimal to no health risks or side effects.

For many years, critics of stem cell treatments claimed that bone marrow stem cells are not effective, because they mainly contain blood forming cells and only a low number of Mesenchymal Stem Cells (MSCs). In short, the critics claimed that bone marrow stem cell treatment is only good for making money, but not for curing patients.

Scientific evidence, however, has shown significant effects of Bone Marrow Cells.